Archive for the 'Announcements' Category
by Bearscast - posted Monday, September 8th, 2008
As we plan to announce in an episode later this week, we've added a new t-shirt design to the Bearscast Store! It's your chance to throw your support behind the venerable ticket of Obama/Urlacher. Wouldn't he make an awesome VP? We've also added the ability for anyone to customize our '08 Election t-shirt with the candidate and/or Bears players of your choice.
These are a limited edition, so order early and often. The first person to order a Kucinich shirt wins a gold star.
This entry is filed under Announcements. No Comments ».
Tags: Obama/Urchacher, t-shirts

by Sean - posted Tuesday, June 3rd, 2008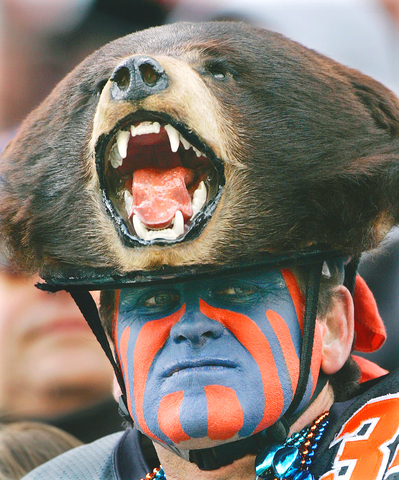 The Bears Fan Expo is this Saturday and Sunday (June 7th and 8th) at the Cadillac Club.
I will be there on Saturday along with my lovely girlfriend taking in all the sights, sounds, spin, and everything else the Bears have to throw at us. Hopefully I'll also get to do a bit of networking and bring in a few more fans for the show. If you are also going to be in attendance, shoot me an email at hosts@bearscast.com. Or if you just have some questions you'd like me to try and get answered (like why in the world is Cedric Benson still a Bear?) just post them on the boards and I will do my best to get them answered and bring that knowledge back to you.
Starting this Monday (June 9th) with the Post-Expo show I am going to do everything in my power to get Bearscast back up and running at an episode a week. I will need all and any of you to suggest topics, raise questions, or just pick a fight we me so I'll have something to talk about. This is going to be amongst the most crucial off-seasons in a long time for the Bears (and intrigue already abounds with rumors that Orton is out front in the QB derby) so join me for the ride.
This entry is filed under Announcements. No Comments ».
Tags: Expo, Up Coming Episodes

by Sean - posted Tuesday, February 19th, 2008
Well just as Episode 93 is posted on Bearscast discussing who stays and who goes the moves begin to happen.
And it started with Mushin Muhammad. Moose was a popular target of Bears fans anger this past year and was definitely on the "Must Go" column:
Additionally it's rumored that another "Must Go" candidate Fred Miller is gone. Miller was pretty much a turnstile most of the 2007 season and I was certainly willing to drive him to the airport myself. The final guy cut was Darwin Walker who I put in the "Must Stay" column during the show. Well I guess the Bears didn't feel the same way and given the HUGE bonus he was due ($5.2mil) I can understand why the move was made.
So as the purge begins send in your emails about free agent solutions for this team. As we say good buy to under performing veterans, where will the solutions come from? Send your thoughts in to hosts@bearscast.com
This entry is filed under Announcements, Episode Notes. No Comments ».
Tags: Cuts, Episode 93

by Bearscast - posted Sunday, December 2nd, 2007
When the season started, we 'd pictured ourselves walking down state street celebrating a Superbowl victory. Now we will still walk down that same state street, but to only return that tie your kids brought for you on Christmas.
Just as Bears fans have felt after a tough loss, today loss  to the New York Giants 21-16 will led you to drink . Moving the Bears record to 5-7 on the year.
This loss hurts that much more when you see Detroit get off to a 6-2 start, with the help of two victories over the Bears. and to see them get run over 42-10 today. It just leaves a feeling in the pit of my stomach.
This game hurts even that much more due to Rex Grossman outstanding play today, but the coaches did not put the players in the position to succeed. Now we're out of the playoffs and looking toward an off season that will bring changes around.
My choice is to remove Lovie Smith and call Bill Cowher
This entry is filed under Announcements, Blog Entries, Blogroll, Contests, Episode Notes, Website Features. No Comments ».

by Bearscast - posted Tuesday, September 11th, 2007
We encourage everyone out there to head over to Gapers Block (the best blog in the city) and check out our thoughts on Week 1 vs. the Chargers.
The five this week are:
NY Jets to Jerry Angelo: "No Trade-backs!"
The Difference between Fantasy and Reality
The Six Million Dollar Manstring
Dear Lorenzo Neal:
And Coming Around on the Outside: It's a Blitz!
Let us know what you think about Week 1 in the comments here or on the Gapers Block site. We'll be bringing you a new column each week in addition to 2 new episodes of Bearscast. Thanks to Ramsin Canon and Andrew Huff for getting us set up over at GB to do this!
This entry is filed under Announcements, Blog Entries. 1 Comment ».